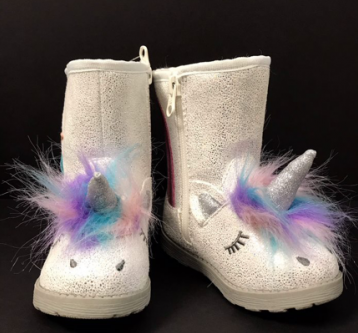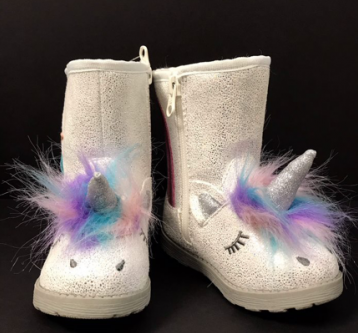 This recall includes the Cat & Jack "Chiara" toddlers' Unicorn Boots in sizes 5-13, and size 1. The boots are white with silver shimmer, include a white zipper, and white faux fur lining. The unicorn's horn and inner ears are silver glitter and its eyelashes and nostrils are stitched and gray in color. At the base of the unicorn's horn is pink, purple, and blue faux fur.
Sold at Target stores nationwide, online at Target.com, and on Google Express from October 2018 through November 2018 for about $27. Four consumers reported the unicorn's horn detached. No injuries have been reported.
So very cute, unfortunately the horn can detach and cause a choking hazard. You may return them to any Target Store for a full refund. ​​​​
This message is brought to you as a service to our families. EduCare CARES! We monitor national news like this and alert you to some of the items from which we feel you will benefit.