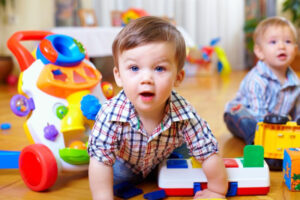 Brought to you by
Aetna Better Health of Florida
Children are curious and love to explore and touch things around them. Sometimes, these things may end up in their mouths and could be poisonous substances or choking hazards. Studies have shown that exposures to poison occur mostly in the home, and children between the ages of one and four years old are most at risk. Childproofing your home is essential if you have little ones. Being prepared will help prevent these unfortunate incidents.
It's also a good idea to have the poison control number 1-800-222-1222 and your child's doctor's number saved on your phone and placed somewhere accessible — like on your refrigerator.
You can also follow the S-A-F-E-T-Y tips listed below:
Store medicines in a cabinet using a safety latch. Kids can climb up to countertops so locking the cabinet is important.
Always keep medicines in their original containers. This is important for identification should an accidental ingestion occur.
Family and friends' homes where your child may spend considerable time should be childproof too.
Every cleaning product should be stored securely and out of reach of children.
Teenagers who manage their own medications should follow family rules on safety and storing of medications. Supervise them as is necessary.
Yard plants and some house plants may be poisonous, be careful what you plant around and inside your home, and know the names of your plants.
Poisoning can be prevented, let's do our part to keep homes safe!
Source: Dr Ikpeazu MD MBA, Aetna Better Health of Florida