Dear Parents,
Happy New Year 2018! We hope everyone had a wonderful holiday.
Welcome to the month of January at EduCare Learning Center.
Friendly Reminders:
You may reference your child's parent board regarding lesson plans, curriculum or daily schedules.
With the cold and flu season creeping up on us, we ask that you please have your child wash their hands upon arriving to school each morning. Please make sure your child has an extra change of weather appropriate clothes in their cubbies.
This month we will be learning about "Under the Sea." The colors of the month are Blue and White. The Character builder is reviewing Trust.
January is the month that we celebrate Early Literacy week with FDOE (FL Department of Education.) This year the week is Jan 22nd-26th, 2018.
The goal of this year's Celebrate Literacy Week, Florida! is to promote literacy and excellent reading habits in the students of Florida. We will be having a special visitor stop by & read with us one day during the week of Early Literacy.
We would like to wish you all a Happy 2018 New Year. Thank you for being a part of our family at EduCare and for all the support you give us each day.
Sincerely,
EduCare Management and Staff
Did you know your child's car seat has an expiration date?
Car crashes are the leading cause of death for young children, but their chance of surviving is increased greatly if they're buckled into a properly installed car seat. It's also the law.
But parents may not know that, like milk, car seats have an expiration date.
Safe Kids Northeast Florida [and Southwest Florida] said most safety seats have expiration dates between 4 and 12 years because the plastic breaks down over time, making them less safe. That's something to keep in mind if you buy a used car seat or plan to reuse one from a previous child.
When picking out a new car seat, experts say it's very important that it fits your child and is properly installed in the car. Parents need to pick a car seat based on their child's stage of development, weight and height.
"I look for comfort and then I always look at the review and see if it has good ratings from other parents," parent Christina MacDowell said.
The goal as they grow is to keep them rear-facing as long as possible.
"Every time you switch to a new stage of a car seat you lose a little bit of safety so you want to maximize the benefit for each stage," said Christina MacDowell, of Safe Kids Northeast Florida. "For example, when they switch from rear-facing to forward facing, you're still in the five-point harness, but forward facing is a little bit less safe than rear-facing because they no longer have that shell supporting their head and neck and spine."
When it comes to installing the car seat properly in the car, experts want you to make sure it is tight and snug, not moving more than an inch either direction when you shake it.
This message is reposted from WJXT News4Jax – News 4 Jacksonville.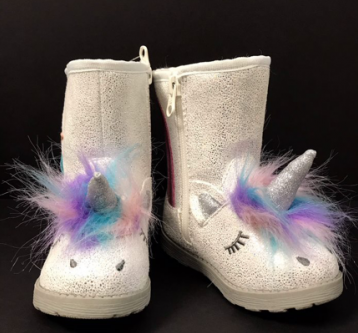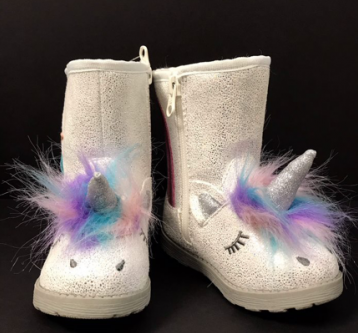 This recall includes the Cat & Jack "Chiara" toddlers' Unicorn Boots in sizes 5-13, and size 1. The boots are white with silver shimmer, include a white zipper, and white faux fur lining. The unicorn's horn and inner ears are silver glitter and its eyelashes and nostrils are stitched and gray in color. At the base of the unicorn's horn is pink, purple, and blue faux fur.
Sold at Target stores nationwide, online at Target.com, and on Google Express from October 2018 through November 2018 for about $27. Four consumers reported the unicorn's horn detached. No injuries have been reported.
So very cute, unfortunately the horn can detach and cause a choking hazard. You may return them to any Target Store for a full refund. ​​​​
This message is brought to you as a service to our families. EduCare CARES! We monitor national news like this and alert you to some of the items from which we feel you will benefit.