Choking Hazard Recall – Petit Collage Toy Xylophones
The ball on the end of the toy xylophone beater stick can separate, posing a choking hazard to young children.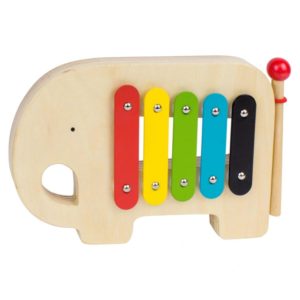 Take the beater stick away immediately.
This recall involves Petit Collage musical jumbo wooden xylophones. They are musical instrument toys for children. The recalled toy xylophone has a wooden base shaped like the profile of an elephant with five different colored metal keys and a wooden beater stick with a red wooden ball attached to one end. The beater stick measures about 5 5/8 inches long by 3/4 inches wide.
"Petit Collage" and "TT.1902.0617" are printed on the bottom back of the xylophone. Only xylophones with this letter/number combination are included in the recall.
For a refund, contact:
Wild & Wolf toll free at 855-215-5879 from 8 a.m. to 5 p.m. ET Monday through Friday or online at www.petitcollage.com and click on "Product Safety" or www.wildandwolf.com and click on "Product Safety News" for more information.
Recall Date: April 19, 2018