Serving Bonita Springs Since 2010
EduCare dedicates itself to the philosophy that quality early childhood education embraces ad utilizes teaching techniques that appeal to all learning styles in pursuit of helping each child reach their full potential both academically and socially. EduCare is designed to provide appropriate instruction, teachers and materials for each age group. Our lesson plans are based on Creative Curriculum. Our philosophy revolves around center-based activities. We strive to provide a well-rounded program including art, music, games, stories, play-acting, outdoor activities, and more. The children's roles include the development of skills such as decision making, negotiating, socializing and problem solving.
EduCare Academy Location
10220 West Terry Street
Bonita Springs, FL 34135-4735
Open Mon-Fri, 6 am – 6 pm
Phone: (239) 992-3424
Parent Testimonials
The staff and teachers at Educare are wonderful. They make you feel like you are family to them.
View All Testimonials
EduCare Academy, Bonita Springs
10220 West Terry Street
Bonita Springs, FL 34135-4735
(239) 992-3424
Information for Our Parents
Save on school supplies during the FL Sales Tax Holiday (8/3-8/5)  [

read more

]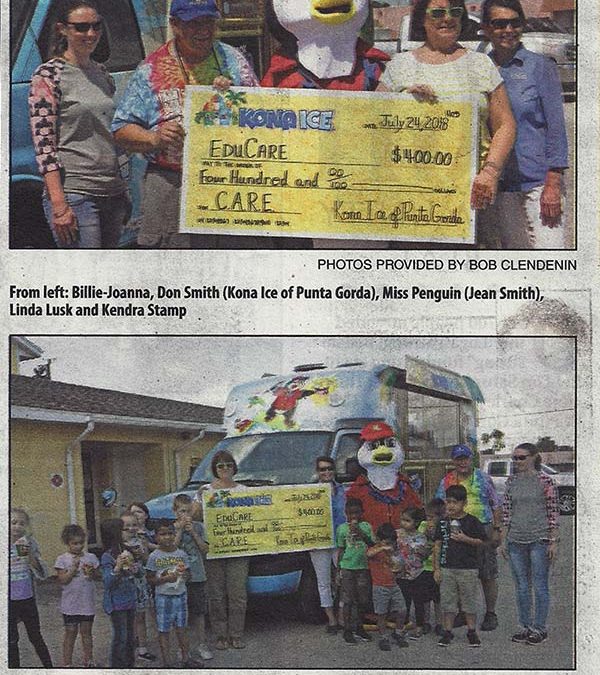 Don Smith of Kona Ice in Punta Gorda, donated to EduCare through his GiveBack program. EduCare paid it forward by donating the funds to the Center for Abuse and Rape Emergencies...
read more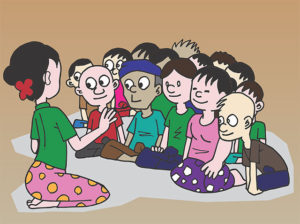 Welcome to month of May!! We will be wrapping-up the end of the school year and getting into our summer program starting next month. This month we will be reviewing numbers, letters, colors and shapes. For character building we will be working on responsibility.
May 11th, Muffins with Mom - We would like to wish all the Moms a Happy Mother's Day. Please stop by in the morning on Friday, May 11th, have a muffin with your child.
May 7th – 11th. Teacher Appreciate Week - We would like to recognize all our amazing staff for doing such a ...
Read More
Menu
EduCare participates in the and USDA Food Program ALL MEALS ARE INCLUDED at no additional charge!
Full, nutritious and YUMMY hot breakfasts and lunches, as well as afternoon snacks are provided as part of your regular tuition. That takes the stress out of your morning! 
The path to a healthy, happy and successful child begins with nutrition. EduCare is proud to offer a food program that exceeds the strict USDA Food Program guidelines. Children are fed a well-balanced and delicious breakfast, lunch and snack each day. Our food service staff serves a variety of fruits, vegetables, meats, and dairy products. We are also careful to follow any special dietary or food allergy instructions to meet the needs of individual children. At EduCare, ALL MEALS ARE INCLUDED at no additional charge!
Not Just Childcare - EduCare
Tuition
EduCare strives to bring the highest quality early childhood education at affordable tuition rates to local families!
Full time care is 4 or 5 days per week and includes a well-balanced, nutritious breakfast, lunch and snack.
Part time care is 3 or less days per week and includes a well-balanced, nutritious breakfast, lunch and snack.
Fees & Charges
Tuition is due every Friday for the following week and is considered late by Wednesday. If tuition is late, there will be a fee of $20.00 added to the weekly amount. An insufficient funds fee of $30 will be applied to any returned payments.
Weather Warnings
We will also be closed on any days relating with any natural disaster.  We will follow the same operating procedures as the public school system.  If conditions are unsafe for children to attend public schools, EduCare will also be closed. Tune in to local radio and television stations for information on inclement weather and public school closings. If local elementary schools are closed, EduCare will also be closed.
EduCare Academy Rates:
Rates for May, 2018.

* Prices subject to change; ask about our rate discounts *
Infant Care


(Birth-12 months)
Toddler Care


(12 months - 24 months)
Full Time $140
Part Time $110.00
Preschool


(24 months-36 months)
Full Time $140
Part Time $100
Pre-K, VPK and Wrap-Around
Pre-Kindergarden


(3 years - 4 years)
Full Time $135.00
Part Time $90
Wrap Around Care


for Voluntary Pre-K
Full Time $85
Part Time $60
Full Time care when VPK is closed $115
After School Care


(full time only)